See below for ideas for some great home learning and fun activity ideas

Tip: for some children a visual timetable is a very good way of helping them to see what is happening today.
 An aid for children who like or need routine or to know what is happening now and next. Make pictures for each of the activities you will undertake during the week, this can start with getting up, breakfast, registering with their teacher for example, then stick the pictures for the day's activities on your fridge or wall so your child can visually see what is happening today. Once they have completed an activity they can take the picture off the fridge and put it in the tub.
You can set up for the next day before going to bed or set up after breakfast ready for the day.
Please find below links to resources which may help your child with their learning or just to have some fun at home and stave off the boredom
Manchester City Home Activities provided as part of our City In the Community sessions
Save the Children Covid-19 Activity pack 2
Downloadable activity pack from the British Library
If you have pupils that are struggling with returning to school, or having to remain at home some of the below information and resources might be useful: 
·   Believe Perform - Source of performance psychology, well-being and mental health content for the sport community. 
·   NSPCC - Children's mental health 
·   DEAL - Developing Emotional Awareness and Listening – Samaritans. Free resource for teachers and other educational professionals designed to help develop resilience in young people. 
The British Library - activities to do at home
https://britishlibraryemails.bl.uk/5JXV-1GPH-C511HR62DD/cr.aspx
Trafford Watersports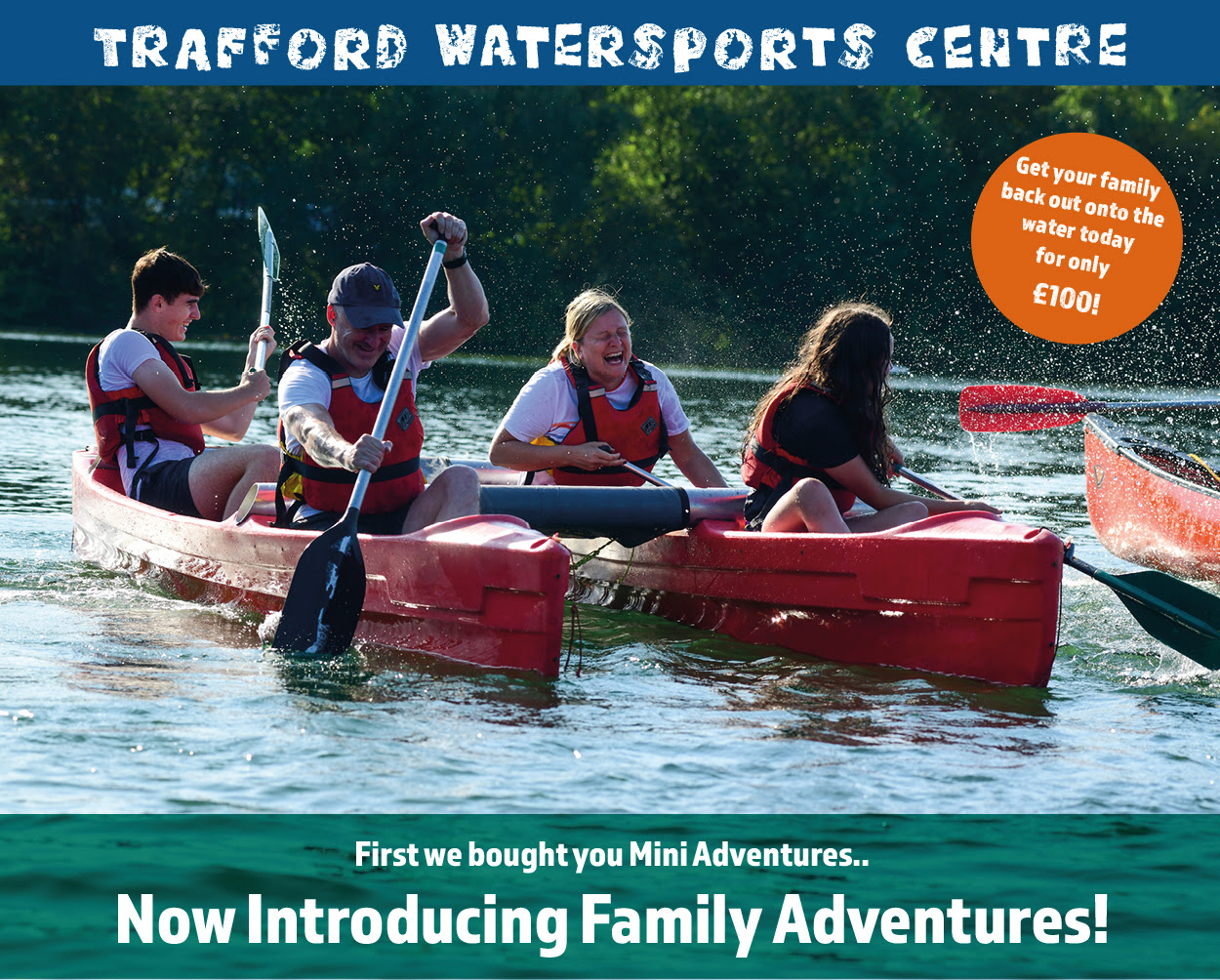 Click here to book or find out more
Children's & Families Newsletter

Manchester City Council Libraries are really pleased to bring you our third weekly bulletin and roundup of all the best sites and activities to keep you and your family busy at home. Remember that Manchester Libraries has a great online offer of books and magazines for the whole family too. This week we're highlighting our very own storytimes, brought to you by Paula from our fantastic library team. Why not join in an arts or Lego challenge, go bear spotting or meet some top authors and illustrators with us. Read on!
Parentzone
Click here for ideas, resources and advice from digital safety experts Parentzone
Free kits to support children with sensory needs from the Variety Charity. Please Click here to find out more
General/Multiple subject areas
There are SO many things to see and do. Happy adventures!
Click here for lots of amazing resources of your child to use
CBeebies & CBBC
Jam packed with activities, radio, videos etc.  Use CBeebies for younger children and CBBC for the slightly older ones
https://www.bbc.co.uk/cbeebies
BBC Bitesize
Another great resource for Key Stages 1 and 2, covering multiple subjects.
https://www.bbc.co.uk/bitesize/levels/z3g4d2p
Twinkl
Twinkl is a great website that is full of fabulous resources for all subjects.  It covers EYFS (Reception and Nursery) as well as Key Stage 1 (year 1 & 2) and Key Stage 2 (years 3-6) for a huge range of subjects.  Although it's normally a paid subscription site, Twinkl have very kindly agreed to make resources free for school and parents in the event of school closures.
Classroom Secrets
Classroom Secrets is another great online tool with a huge bank of resources.  Again, like Twinkl, they have said they are busy putting together a bank of resources that will available for free in the event of schools closing.  It covers EYFS (Reception and Nursery) as well as Key Stage 1 (year 1 & 2) and Key Stage 2 (years 3-6).
https://classroomsecrets.co.uk/kids/
Five Minute Mum
Simple, easy, 5-minute games for children.  Primarily aimed at those 1-5 years old, but I'm sure slightly older children will enjoy them too!
YouTube Kids
YouTube Kids is an app (rather than online like YouTube) that can be downloaded for free.  It has far better parental controls that YouTube and so we would recommend its download. Once on, you can search for lots of games and activities, e.g. children's yoga and mindfulness for when you all need a bit of calm (try Cosmic Kids), top 10 home science experiments, Dance etc
The Kids Should See This
Lots of fun videos for curious minds, covering a huge range of topics
https://thekidshouldseethis.com/?fbclid=IwAR3U2OVyBzApU-Qhv6-Pc42n6gjT9Ig_CDxe7rMZ6tRh6pK1LfRauWuGlfc
Ted Ed
Lots of engaging educational videos for free
National Geographic Kids
Lots of activities and quizzes for children
https://www.natgeokids.com/uk/
DK Find Out
Lots of activities and quizzes to try
https://www.dkfindout.com/uk/?fbclid=IwAR16NH79X2jGWHo3LdQWePseEUB4q46vu3mzOZSLC2hD6ZpVxQMwjpnCjEM
Virtual Museums
If you're stuck at home, why not try the link below for virtual tours of 12 different museums.
https://vt.co/lifestyle/if-youre-stuck-at-home-these-12-museums-offer-virtual-tours-you-can-take-from-your-couch/?utm_source=vt&utm_medium=junglecreations&utm_campaign=post&fbclid=IwAR1X21ceLxR5wzdvvk5YCcMBTDtcg5VWOzGsVrD2vQAZQBpTnTXzaiIiPjQ
Phonics Play  This website is free to use. 
To access the resources all you need to do is to log on using the following details                    
Username: march20                      Password: home              
https://www.phonicsplay.co.uk/
Chatta Club Free daily activities to support learning at home. 
Chatta Club provides activities for children every day which support progress in language, literacy, memory and wider learning.
htt​ps://chattalearning.com/chatta-club-2/
Maths & Science
Numbots and Times Tables Rockstars
These are 2 brilliant maths games for children, which parents have been emailed about.  All children received logins and we have recently re-issued them (they are likely to be stuck in their diaries).
Numbots builds on early maths skills such as number bonds, simple additions etc.  It is recommended for children in Reception – Year 2, although others may still enjoy it.  
Times Tables Rockstars helps children to learn their multiplication and corresponding division facts.  It is recommended from Year 2 upwards, but I know some of our Reception and Year 1 children are enjoying it too.
Children's logins will allow them to access both sites and you can also download the apps for free.  You will also need our school postcode which is M21 7JG
https://play.numbots.com/#/account/school-login-type
https://play.ttrockstars.com/auth/school
NRich
NRich is a brilliant maths website that has activities from EYFS through to Key Stage 1 & 2. Within sections, they have recommended ages for each activity.
EYFS: https://nrich.maths.org/13371
Key Stage 1 and 2:  https://nrich.maths.org/9084
The White Rose
Years 1-3 are currently following the mastery approach in maths and teachers use materials from The White Rose to support their planning.  The White Rose team are busy putting together some free resources, including video tutorials for children and parents to use in the event of school closures.  These will still be useful from EYFS right through to Year 6.
Prodigy Maths
This is American and so uses their school grading system (which works a year behind, so pre-Kindergarten is UK Reception, Kindergarten is UK Year 1, grade 1 is Year 2 etc)
NCETM
The National Centre for Excellence in Maths is used a lot by teachers.   These ideas for use around the Numberblocks episodes may be of use to parents of those children in our Early Years classes.
https://www.ncetm.org.uk/resources/52060
MathsBot
There are lots of activities for maths on this site.  It is mostly aimed at Key Stage 2 and you can create questions, play games and adjust the difficulty levels.
https://mathsbot.com/#Question%20Generators
Coding
Scratch
A brilliant website to practice computing skills. Children can make games or a simple animation. There are plenty of tutorials if your child hasn't used Scratch before or to improve and learn new computing skills.
iDEA
This is a free coding website.  It's a digital enterprise award scheme that you can complete online
Blockly
A site to learn computer programming skills – fun and free
Khan Academy
Especially good for maths and computing for all ages but other subjects at Secondary level. Note this uses the U.S. grade system but it's mostly common materials
Reading and Writing 
Teach your Monster to Read
This is another website that is free to sign up to and has things such as animated stories and games.
https://www.teachyourmonstertoread.com/
Oxford Owl
Oxford Owl have free E-Books for ages 3-11 yrs.
https://www.oxfordowl.co.uk/for-home/
Pobble365
A lovely resource that gives a gorgeous image, a story starter and then lots of ideas to do with it.  Seems to be free.
Hungry little minds  Simple, fun activities for under 5's  
https://hungrylittleminds.campaign.gov.uk/
Collins Big Cat
ebooks
Access 330+ free KS1 ebooks from our primary reading programme
Go to Collins Connect and click on the Teacher portal and enter: 
Username: parents@harpercollins.co.uk
Password: Parents20! 
and click Login. 
Arts and Crafts
Red Ted Art
Lots of fun and simple (!) activities to keep boredom away!
We were particularly impressed with the 79 ways to use a toilet roll!
https://www.redtedart.com/cute-easy-toilet-paper-roll-crafts/?fbclid=IwAR0sPSeRwdNCWOUfXAlkNNmxwkDvEMO1mlJ0Np4Cf_s2q3lVYE7V_UW1UjM
Tinkercard
All kinds of free making ideas
https://www.tinkercad.com
Modern Foreign Languages
Duolingo
This can be downloaded as an app or web based and is a great way to learn a foreign language for free
Keeping Active
Dance Mat Typing
This is a great way for children to learn to touch type – a really useful skill to have.
https://www.bbc.co.uk/bitesize/topics/zf2f9j6/art
Activities to do outdoors
Nature Detectives
https://naturedetectives.woodlandtrust.org.uk/naturedetectives/activities/
GoNoodle
Go Noodle have just launched a new, free app and is a great way to get children moving with dance videos.
https://play.google.com/store/apps/details?id=com.gonoodle.gonoodle&hl=e...
Available for Android and iOS 
Some fun things

https://www.honeypot.org.uk/bumbles-50-things-home/